The Story of Precon
In 1963, Don Domingo Zarraonandia left his sales position at American Pipe and founded Precon Products in Thousand Oaks, California. He poured the first manhole shaft in his garage and shortly thereafter secured a 1-acre site in Thousand Oaks next to MGM's Jungle Land, now the site of the Lakes. His vision for success centered on responsive customer service and innovation for the pre-cast concrete industry. By 1972 Precon had outgrown its 1-acre site and Don purchased 10 acres on the west side of Simi Valley. Within 15 years Precon had secured its position as the preferred supplier of sewer and storm drain manholes.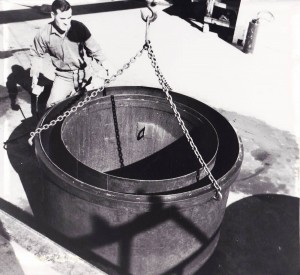 Reinforced Concrete Pipe
Don then turned his attention back to the product he had sold for American Pipe – Reinforced Concrete Pipe. The RCP market had been dominated by a few large producers that continued to use inefficient methods of manufacturing. With input from his oldest son David, Don decided to invest in a fully automated 60" diameter pipe machine from Hydrotile Machinery of Iowa. The production capacity and high quality output of the machine gave Don and David the confidence to enter into the pipe market.
One week before Don passed away, he made his last visit to Precon to see the nearly completed pipe machine and production building. Through hard work, and a deep concern for the customer, Don nurtured his company from humble beginnings in his garage, to one of a leadership role in the pre-cast concrete industry.
Assuming the Mantle
Don's eldest son David assumed the presidency at Precon and immediately set out to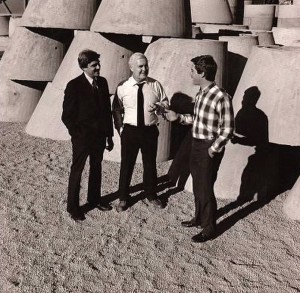 secure approval for machine-made pipe from various specifying agencies. After 2 difficult years of "Greenbook" committee meetings, David successfully lobbied for inclusion of machine-made pipe into Los Angeles County. In 1991 in the midst of a recession David requested that Dan, Don's youngest son, join him in his efforts to guide Precon through this difficult period.
Growth
Through the 1990's Precon continued to diversify its product line to include such varied items as sewer pump stations, oil/water separators, catch basins, architectural signs and vaults. In the late 90's, Precon expanded its operations to include field construction and installation of sewer manholes and other structures.
Continuing the Legacy
Precon will always aspire to live up to the legacy of its founder, Don Zarraonandia. His immigrant parents instilled in him a deep love of country. His experience, with the death of his father at age 12, and in the midst of the Great Depression gave him a strong work ethic. His service in WWII in the Pacific left him with a deep appreciation of life. Don's unique personality, shaped by these events, continues to influence the company he founded.
Read about the Latest Precon News